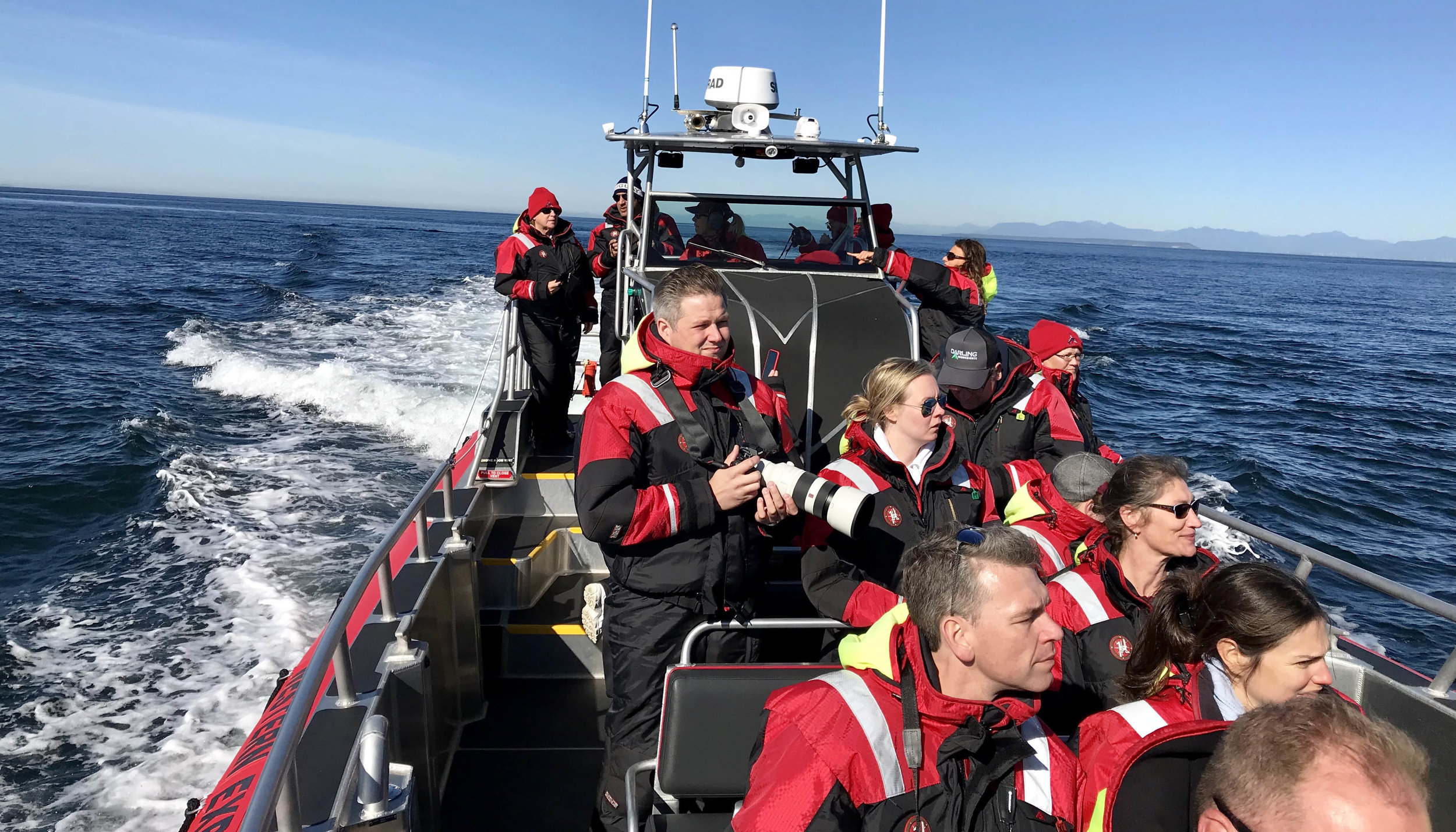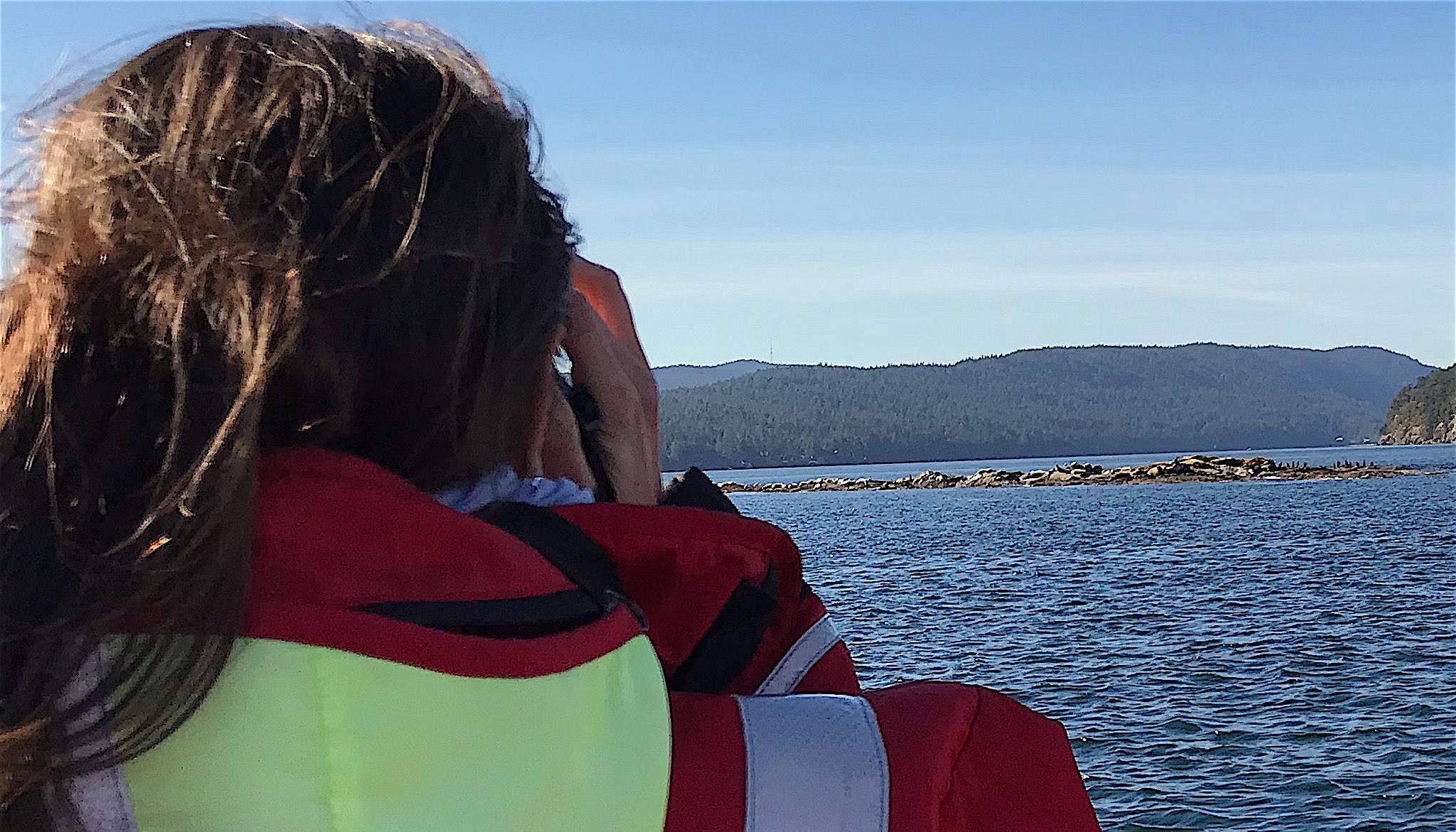 It was one of those postcard weekends on San Juan Island, which makes people drop everything and move to the Pacific Northwest. Crystal clear skies, temps in the upper 60's, breathtaking views. My husband and I sat in the sun on Friday Harbor's water front and thought about how best to spend such a glorious day. We looked up and saw a sign. It said: Western Prince Whale & Wildlife Tours. We looked at each other, giggled and spontaneously decided to go on a whale watch tour.
Established in 1986, the Western Prince was the first Whale & Wildlife Tour operator on San Juan Island. Deeply committed to conscientiously observing and understanding the beautiful and fragile marine wildlife of the Salish Sea, their tours are small and have a personal touch.
Western Prince offers tours on two different boats. The Western Prince II, a custom 46' tour boat with a warm cabin, snacks for sale, a full walk-around viewing deck and bathroom, for up to 32 guests, perfect for the entire family.
Then there is their other boat: the Western Explorer II, a 40′ rugged aluminum boat with a foam collar for additional stability, similar to the boats the Coast Guard uses for search and rescue. The Western Explorer II is the first whale watch boat from San Juan Island to be powered by water jets. The lack of traditional propellers cuts down on noise and potential harm to critters. It's a fast (up to 35 knots), open air ride, greatly enhancing the chance to see wildlife. Each guest gets suited up in a Coast Guard approved anti-exposure suit, even if it's hot out. That's the ride we wanted.
After an uncomplicated check-in and brief introduction on the things to come from our Captain Nancy and Naturalist Elah, all of us passengers suited up. Our bunch came from all over. Seattle, Oregon, Ohio, Minnesota, England, Belgium and the Netherlands. There was something egalitarian in being dressed the same and I found it comforting, to be taken care of by an all-female crew.
Leaving the port of Friday Harbor, we headed north. Captain Nancy had heard of a Humpback sighting near Boiling Reef by Patos Island in Canada. We picked up speed and a chilly, exhilarating, 20-minute ride later, we found the whale by the 577 feet deep reef, which looked exactly like pot of boiling water. Our Naturalist Elah told us all there is to know about these gorgeous giants and how to predict a surfacing.
Humpbacks made a remarkable come-back in the Salish Sea over the last 10 years, after they got protection. They grow up to 50 feet long and have a life span of about 40 years. They migrate to Mexico and Hawaii for the Winter to mate and to breed. Then they come back with their offspring - a whopping 6,000-mile migration - during which they don't eat! Humpies can open their mouth to a 90-degree angle and filter 5,000 gallons of water through their baleen system in their mouths. When they do finally eat, they need 1½ tons of food per day.
Humpback Whales can be identified by the underside of their fluke and are very social animals. Females get together for group time and the gentle giants are known to do nice things for smaller animals, like tugging a seal under their fins to protect it from predators.
After staying with "our" whale for a while, we headed towards Saturna Island, BC, with its otherworldly honeycomb weathered cliffs from salt spray, making them look like creatures or a work of Native art. A Bald Eagle was waiting for prey on top of a particularly tall Douglas Fir. Just when Elah informed us, that Saturna sports as many people as wild goats (around 300 each), we saw a flock of them climbing the steep cliffs, goats, not people. On the rocks below, gigantic Steller sea lions and harbor seals were sunning.
We watched sleek, black Cormorants fly low over the sea and learned that surprisingly, their feathers don't repel water and their bones aren't hollow, like other seabird's, to aid them in their diving.
Suddenly tons of Dall's porpoises frolicked all around us, displaying their signature black and white markings, which make them look like mini Orcas.
Returning back to the United Sates, we stopped by the privately owned Spieden Island north of San Juan. In the 80's, the island was stocked with exotic game for big game hunting. This endeavor ended soon, due to animals not surviving and fears of shots carrying over to other islands. Some animals from that time did survive though and make now for a strange sight: among them Mouflon sheep from Corsica, fallow deer from Europe, and Sika deer from Asia. Our fellow passengers from Europe laughed, that they had travelled all this way to see deer from home.
We returned to Friday Harbor happy and hungry, hearts and minds filled with images of the wonderful world we are allowed to inhabit. Thank you, Western Prince, for an unforgettable adventure!